This whole year of touring awakened in him an interest in the music of the Latin Americas and especially Brasil and, at the end of the tour, he continued his travels in the Latin Americas and began to create his own catalogue of compositions.
Returning to Europe he toured as soloist with the companies Brasil Tropical, Brazukas and Tangos of Brasil, and recorded a second album - Zaradin's Guitar for EMI (1976). He formed the group Images of Brasil, which played original works and music from Brasil, making television and radio performances and performing in venues as varied as Ronnie Scott's Jazz Club and the Queen Elizabeth Hall, London.
In 1988 Alby James, director of the Temba Theatre Company, invited him to compose and perform original music for his production of Romeo & Juliet, the setting of the play being transposed to Havana from Verona. The score was created for solo classical guitar triggering synthesizers, via MIDI (Musical Instrument Digital Interface), allowing orchestral colours and sound effects to be incorporated into the production. The music was performed live without any sequencing or pre-recording and demonstrated how computer technology could greatly expand the possibilities of the acoustic instrument. Caribbean Fantasy for Guitar is the music from this production, compiled and arranged as a suite for solo guitar.
In 1990 he composed and performed the music for Jonathon Porritt's BBC TV production Where On Earth Are We Going?


October 2002 saw the première of Azraq Suite for Guitar & Orchestra in Newport News, Virginia. John Zaradin composed and performed the work with Ann E. Argodale conducting the York River Symphony Orchestra, and recorded it subsequently at Sony Studios in London with the Royal Ballet Sinfonia.
The 6 movement suite of dynamic rhythms, colours and moods of the Latin Americas is ideally suited for both music festival and concert hall.
In August 2015, his second orchestral work, Suite #2, Interludes for Guitar & String Orchestra, was premiered at the Helsinki Summer Music Festival. It is a suite of 4 pieces composed as an homage to the late Finnish guitarist Ole Halen. It was written for Janne Lehtinen who performed it with the Collegium Musicum Lohja, Leader Michael Ertz, Conductor Harri Kerko.
February 12 2018, Suite #3, for Guitar & String Orchestra was premièred at the Church of St Lawrence Lohja by the same soloist and orchestra.
October 11 2019, Suite #4, for Guitar & String Orchestra was premièred by the Helsinki Strings at the Iiris Itä Helsingen Muusiiki opisto Helsinki, Finland.
John Zaradin offers insights into his life and philosophy in the publication Personal Journey, John Zaradin in Conversation with Hephzibah Yohannan (Mechisedec Press) and features in Masters of Jazz Guitar (Jazzwise Publications) with an informative chapter on the Guitar in Brazil.


During the greater part of his career he has been playing concerts aboard the world's most luxurious and sophisticated cruise liners, finding there, a demanding and varied public captivated by his unique guitar sound and style of playing.

Herman laughed. "There's not a fortune or a diagnosis that makes a sound like a guitar. Listen to that ...", he nodded at the tape recorder which he had brought from the garden with him and which was still playing, "That's Zaradin. Every note is golden." -
Birdcage Victor Canning

In 1968 his solo London début concert at the Purcell Room, Royal Festival Hall, launched him into the London musical world where he was active in studios, in theatre and on the concert platform. He made, at this time, the guitar recordings for the television series The Strauss family with the London Symphony Orchestra.

His theatre life began at the Royal Court Theatre with Shakespeare's Twelfth Night, evolved onto the West End stage at the Piccadilly Theatre with Man of La Mancha and continued into touring with, amongst others, the musicals Hair and Fiddler on the Roof and with the companies Ballet Rambert, London Contemporary Dance and Glyndebourne Opera.

John Zaradin was born in the UK and began playing the guitar at the age of thirteen. He was initially tutored by Albert Kay in the Schillinger System of Musical Composition and Arranging Techniques and later completed his formal guitar studies with Alexander Lagoya in Paris. He began his professional life performing with the violinist Jan Resek in Germany and the UK.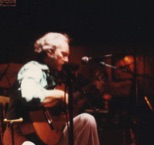 In 1972 Belwin Mills became his first publisher and he made his first solo recording:
Concierto de Aranjuez by Joaquín Rodrigo (EMI/CFP) which won him a gold album award in 1983.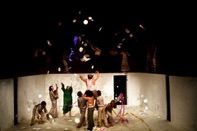 During 1972 and 1973, as a member of the Royal Shakespeare Company,
he made the world tour of Peter Brook's production of Midsummer Night's Dream (USA venues: Kennedy Center Washington DC, Music Center, LA, Geary Theater, San Francisco).